Core Impact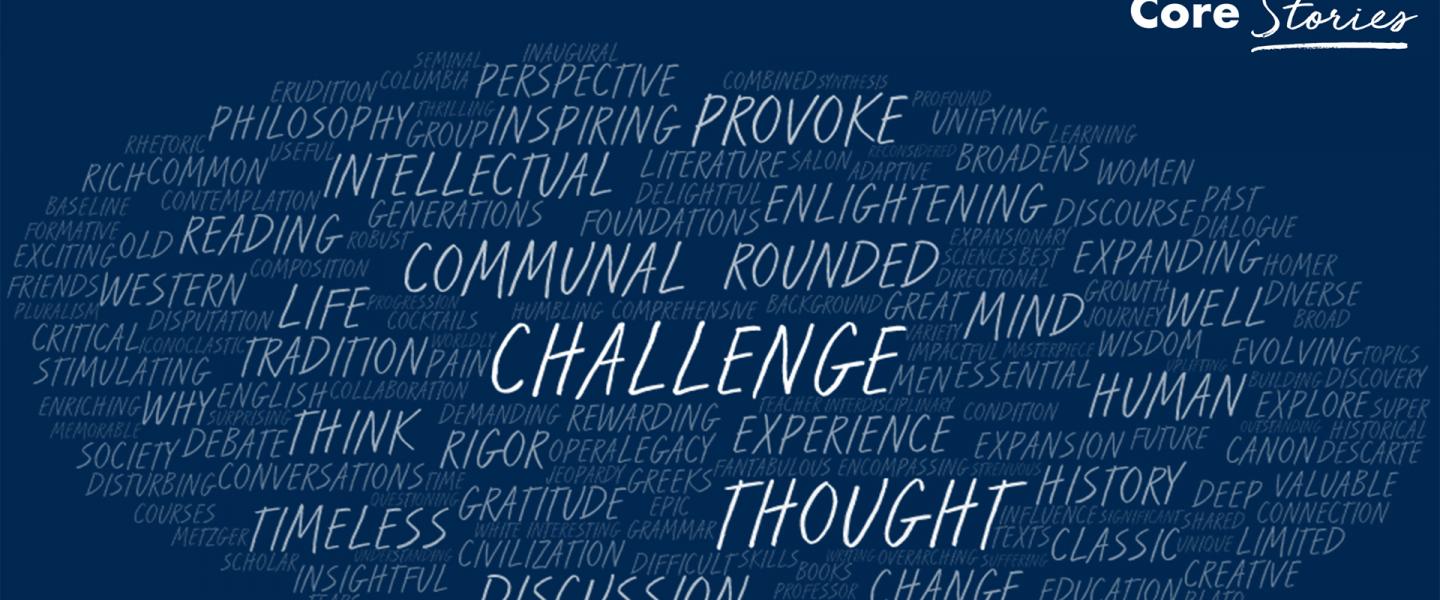 Published: November 20, 2020
Throughout the Centennial year, we've asked you to provide 3 words to describe the Core and you delivered. Explore the words submitted to describe the Core and share your own.
---
Adaptive, Annoying, Art, Background, Baseline, Best, Books, Broad, Broadening, Broadens, Canon, Challenge, Challenging, Change, Civilization, Classic, Classics, Cocktails, Coleman, Collaboration, Columbia, Combined, Common, Communal, Community, Composition, Comprehensive, Condition, Connection, Contemplation, Conversations, Courses, Creative, Critical, Critical-Thinking, Crosswords, Culture, Curiosity, D'Acierno, Debate, Deep, Delightful, Demanding, Descarte, Dialogue, Difficult, Directional, Discourse, Discovery, Discussion, Disputation, Disturbing, Diverse, Education, Educational, Encompassing, English, Enlightening, Enlightenment, Enriching, Epic, Erudition, Essential, Ever-Evolving, Exciting, Expansive, Experience, Exploration, Eye-opening, FANTABULOUS, Formative, Foundational, Friends, Fundamental, Future, Generational, Grammar, Gratitude, Great, Greeks, Group, Growth, Historical, Homer, Human, Humanities, Humanity, Humbling, Iconoclastic, Impactful, Inaugural, Influence, Insightful, Inspiring, Intellectual, Interdisciplinary, Interesting, Inviting, Jeopardy, Journey, Knowledge, Learning, Legacy, Life, Life-changing, Limited, Literature, Lively, Logic, Masterpiece, Memorable, Men, Metzger, Mind, Mind-building, Mind-opening, Movement, Nietzsche, Old, Opera, Outstanding, Overarching, Pain, Past, Pellegrino, Perspective, Philosophy, Plato, Pluralism, Professor, Profound, Progression, Provoking, Questioning, Reading, Reconsidered, Rewarding, Rhetoric, Rich, Rigor, Rigorous, Robust, Rounded, Salon, Samuel, Scholar, Scholarly, Sciences, Seminal, Seminar, Shared, Significant, Skills, Society, Stimulating, Strenuous, Suffering, Super, Surprising, Synthesis, Teacher, Tears, Texts, Thought-provoking, Thrilling, Timeless, Topics, Tradition, Traditional, Transformative, Transforming, Understanding, Unifying, Unique, Unnecessary, Uplifting, Useful, Valuable, Variety, Vigor, Well-rounded, Western, White, Why, Wisdom, Women, Worldly, Writing
---
What three words come to your mind when you think about the Core?
Scroll through the word cloud below to visually see which words were submitted most often.